About
Born in 1985, Katty is a multimedia artist and designer living in Mauritius. She graduated with a BA (HONS) in 2011 after 4 years of studies in Digital Art at the MGI School of Fine Arts (University of Mauritius) where she did her specialization in Multimedia. Katty thoroughly enjoyed the challenges all these years presented and she had the opportunity to participate in various workshops, meet and work with great artists.
Colours, storyboarding, drawing and painting, photography, web design, stop motion animation, video editing, sound manipulations and concept creation are things she really enjoys and that she is fascinated about. Art is everything to her simply because she thinks that without it, we just live in a plain, empty world. She definitely believes that everybody should have and share a colorful life !
"Trust in what you love, continue to do it, and it will take you where you need to go", a quote of Natalie Goldberg that has always motivated her. Katty loves art since she was a child and this passion is still growing. She spends all her spare time creating arty videos, painting and photographing life around her. Her precious little Canon EOS is never far !

Today Katty is a Multimedia Artist and the Creative Director at Sugarsplashes Ltd (http://www.sugarsplashes.com/), a multimedia company based in Mauritius.
*You can scroll down or Grab the white bar on the side if you want to read more! Thank you !*
Character
Thinks outside the box
Passionate
Creative
Dynamic
Loving new challenges
Flexible
A little bit more
In 2008 – 2009
Workshop with the french artist Régine Ciroteau which was followed by Digital creations in 2008. Exhibition with the theme:"l'Habitat"at L'alliance Française.
Workshop with French artist Sébastian Fau and other Mauritian artists which was followed by a short film called "Natir Vivan". Ile Courts 2008. A production of La Pellicule ensorcelée, co-production of Le Centre Culturel Français Charles Baudelaire/R-hill, in collaboration with the MFDC.
Annual Student Expo at the Mahatma Gandhi Institute School of Arts.
Active participant: KINO Maurice-Reunion/Kino-Kabarets/Kino Palmar/Kino Grand-Port. Film director/acting/cameraman/scriptwriting/storyboarding/montage(Sound & image editing)
Part-time Portraitist at the Caudan Waterfront.
Workshop with photographer David Arreaz.
Animation workshop with Adesh Bhardwaj from Graffiti Studio, India.
In 2010

Ile Courts participation with short film "La Naissance Des Couleurs". Projected at the KafeT@ ex. ABC Rose-Hill at the opening of the festival. This short was also selected for the Ile Court 2010 DVD which showcased Mauritian movies.
La Toile et l'Ecran/Vidéo Fresnoy- Video Art Exposition in 2010-2011 with the film "Ça Fourmille Dans Ma Tête" exposed at the « Institut Français de Maurice ».
In 2011
"L'Esprit Voyageur": short film selected for the Ile Courts Festival in 2011.
During the same year, I also worked on a series of freelance adverts with Eruption Studio and Mauritius Publicité on TV adverts for "Tropical" the Tuna canned food and Super Chef, the first cooking competition of the nation aired on MBC 1.
 In 2012
Short film: "La Naissance Des Couleurs": Officially selected and screened at the "13ème CinéSud, Festival du Court Métrage Africain" at Saint Georges de Didonne (17), France.
Since then, Île Courts Festival gave my films the opportunity to travel worldwide, in particular to Europe and Africa. During the same year, La Naissance des Couleurs was presented at:
Focus on Mauritian cinema at the 24th Cartage Film Festival (Tunisia),
Focus on Indian Ocean cinema at the 8th Hergla Film Festival (Tunisia), where I was invited to present my works to the Tunisian audience.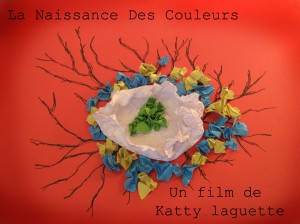 http://katty.sugarsplashes.com/2011/10/01/le-tableau-vivant-la-naissance-des-couleurs/
In 2013
Individual co-prod and "Responsable de Figuration" for the Mauritian Movie Lonbraz Kann of David Constantin.
Lonbraz Kann synopsis:
Mauritius Island at Nouvelle-Découverte
Cane is not profitable anymore. It is the last time the fields will be cut. Luxury residential houses are built where cane sugar fields used to grow.
Marco, Bissoon, Rosario and their friends, spent their lives working on sugar cane fields of Nouvelle-Découverte. When the sugar factory closed down, the world they lived in changed overnight. They would hang out in Ah-Yan's shop, dreaming of a fresh start, a new life or just migrating somewhere. When Devi, a mysterious young woman, settles in the big house facing the old labourers' camp, she becomes the talk of the village.
The story of their everyday life unfolds itself, revealing shared bonds of human resilience stronger than ever. Lonbraz Kann is a narrative about modern times and ourselves, about a society caught in the web of time with the global intruding in the individual life. Set on an Indian Ocean island trailing its cliché of paradise, Lonbraz Kann shows the other side of the obstinate postcard of happy tropical people.
Lonbraz Kann in English : "Shady Sugar Canes"
★ ★ ★ ★ ★
Coproduction Caméléon Production (Maurice) | Atopic (France) | Lithops Films (La Réunion)
Partenaire Iris Imaginaçoes (Mozambique)
Financement ACP Cultures+ (Mis en œuvre par le groupe des États ACP et Financé par l'Union Européenne) | Cinémas du Monde (France) | OIF-Organisation Internationale de la Francophonie | The Global Film Initiative (États-Unis)
Soutien Canal + (Maurice) | Culture & Avenir (Maurice) | Stubborn in Dreams (Maurice)
Et les coproducteurs individuels de Touscoprod !
Facebook fanpage link: https://www.facebook.com/LonbrazKann
Below :Lonbraz Kann team! I am the girl with the hat on the knee !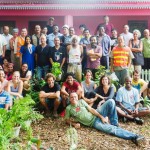 ——————————————————————-
Also during the same year:
Diego Garcia video clip made for Zulu Bavajee:
A mixed media of video and animation.
Video link: http://www.youtube.com/watch?v=XD54t0e15ow&feature=share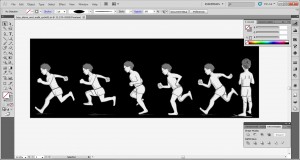 In 2014
Scriptwriting Workshop For Short Animated Films: Ile Courts 2014. ★ FILM FABRIK . DRAW ME A SHORT
It's been a long time since the Festival has last hosted an animation workshop. Under the guidance of the director Madi Piller, five writer/animators selected during an initial call for projects will work intensively on their fiction project. This residence is the first stage of the programme FILM FABRIK.
Workshop organised in collaboration with TAIS (Toronto Animated Image Society) and with the support of the Canada Council for the Arts.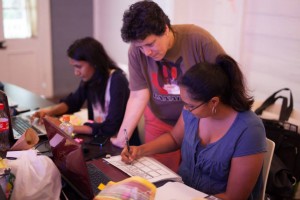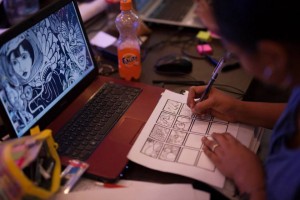 Photo : B.Makoona
———————————————————–

During the same year:
Selection: "Talents Made in Moris" with many other mauritian artists !https://www.facebook.com/madeinmoris.mu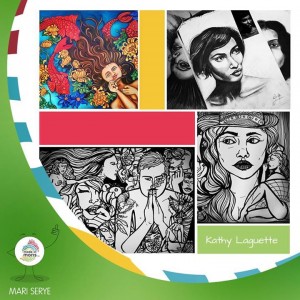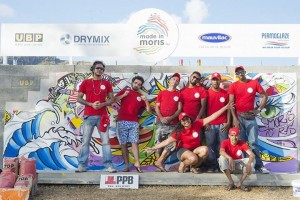 Timelapse video link: Talents Made in Moris "Made in Moris fait le mur" à l'occasion du Salon de la Maison et du Jardin. Les acteurs principaux de ce projet innovant : 4 marques mauriciennes, 11 artistes mauriciens et 2 murs ! Une collaboration en images qui met en lumière les talents de notre île ! Partagez, ena nou lamain ladan ! "
In 2015
Launching my new ARTshop!!!
https://katty.shop.sugarsplashes.com/en
And if you want to follow me, here is the Facebook link below!
https://www.facebook.com/KattyArtwork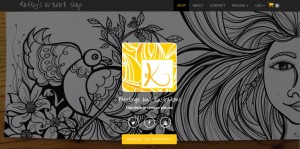 Kozé Mag Kiltir Opozé/ Coups de coeur// We Love Love Love/// 07 jan 2015
https://koze.mu/coups-de-coeur/we-love-love-love/les-oeuvres-de-katty-en-ligne/

Newspapers Articles
http://www.lemauricien.com/article/katty-laguette-les-emotions-d-artiste-multimedia
: Scope Magazine 22 January 2014
http://www.lexpress.mu/story/2062-decouvertes-katty-laguette.html
:  L'Express Dimanche  5 February 2012
http://www.ledimanche.mu/NewsView.asp?NID=5069
:  Le Dimanche 17/10/2010
http://www.lexpress.mu/story/1075-decouvertes-katty-laguette.html
:  L'Express 04/10/2010